For those of you who missed the interview with Dr Leann Fieldstad, Vice President, Global Pharmacovigilance Operations, PAREXEL, published earlier this month in Clinical Leader, I thought it was worth summarising her views of the challenges faced by the modern drug safety landscape.
Nothing surprising perhaps but it can be useful to reflect on where we have come from and where we are still to go – especially at this time of year…
With modern pharmacovigilance techniques, the emphasis on safety has shifted from one that was primarily involved in pre-launch studies to the far more diverse sphere of post-approval safety surveillance.
Dr Fieldstad stresses the need for modern safety operations to collect safety data from multiple sources and be supported by ever more complex IT infrastructures. However, she views the lack of data standardization for AE collection as a major challenge.
At present, AEs must be entered into multiple databases, with their own submission rules partners etc. These are full of spontaneous and solicited adverse event reports and all generate statistical reports on AEs received over a specific time periods for defined sets of active substances or drug products.
The picture is further complicated by the lack of global regulatory harmonisation. The second module of Whitehall Training's Pharmacovigilance course is devoted entirely to this regulatory landscape.
Regulatory requirements are often country-specific and requirements for emerging markets may not be aligned with European legislations. This makes it difficult to develop global risk management plans and risk evaluation mitigation strategies.
The types of AE reports have also evolved, partly as the way they are gathered has changed. Modern drugs launches may be accompanied by patient support services, which make it easier for unsolicited AE reports to be made. Unfortunately, they are often missing important clinical data and may even be duplicated.
A couple of months ago, we produced a free downloadable guide to the pros and cons of post-market ADR reporting – you can download a copy here…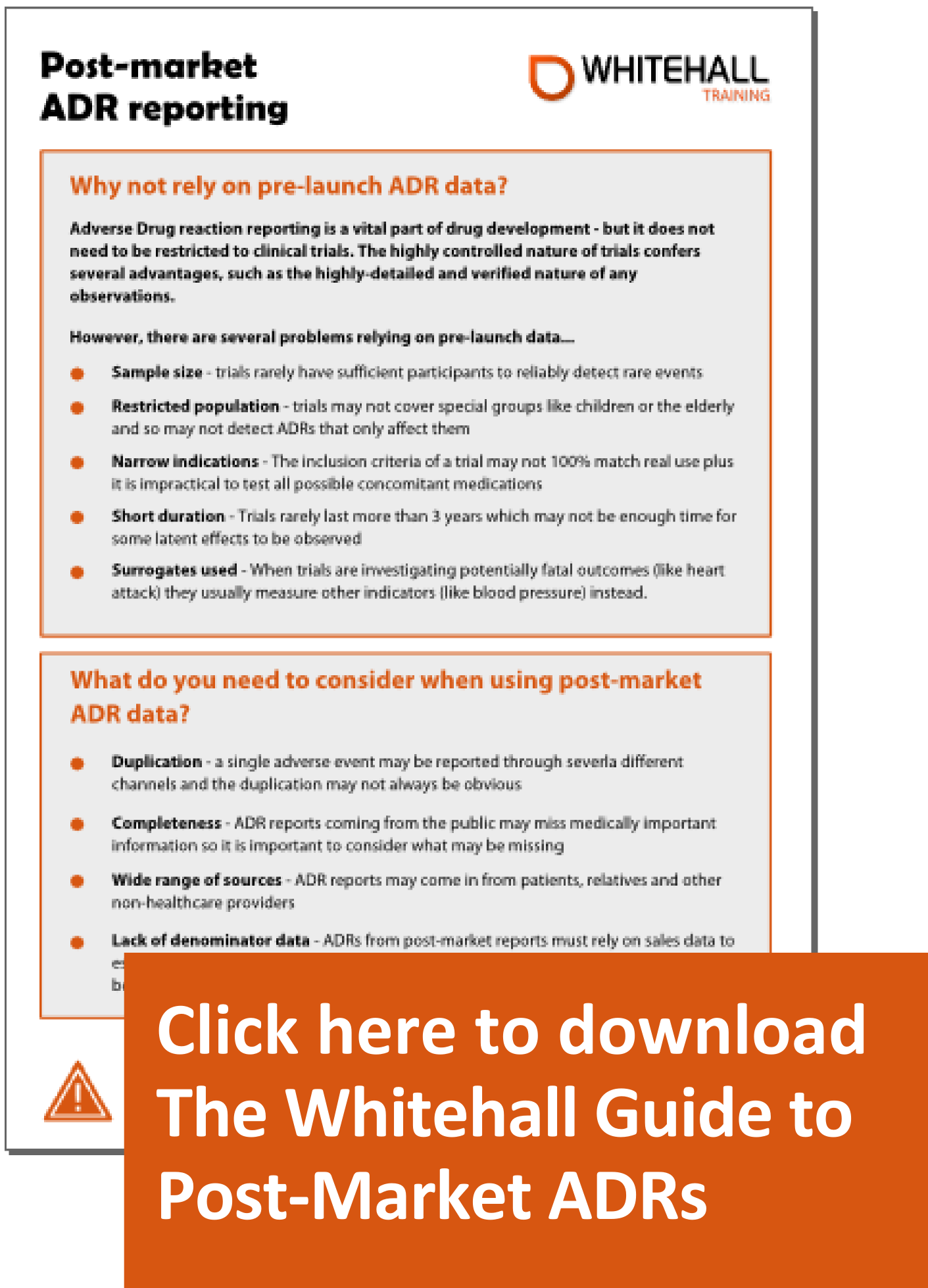 Dr Fieldstad goes on to stress the vital role of technology in the pharmacovigilance landscape. Companies need to introduce technology to help facilitate end-to-end monitoring – making it easir and faster to collect and report on AEs. Again, lack of harmonisation adds complexity, since systems must be sufficiently flexible to meet all local regulatory requirements as well as global ones.
"Sponsors must be prepared to conduct ongoing risk-benefit analyses over the entire product life cycle, from first-in-human studies through the product's market access by taking proactive measures. Some of these include the launching of pre-approval disease registries that develop into post-approval surveillance and conducting studies that reduce effort for the clinic and patients while generating safety and other forms of relevant data. All of these activities must be conducted in compliance with regional and global regulations."
You can read the entire interview with Dr Fieldstad [here]